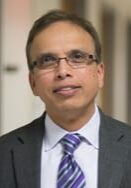 Obaid S. Shaikh, MD, FRCP
Dr. Shaikh is Professor of Medicine at the University Of Pittsburgh School Of Medicine. He is a well-known hepatologist with particular expertise in the area of Transplant Hepatology. Dr Shaikh established the Center for Liver Diseases at the University of Pittsburgh Medical Center in close collaboration with the Starzl Transplantation Institute. The center has evolved as the premier liver center in the country. Dr. Shaikh is currently the Director of Transplantation Medicine at the VAPHS .The transplant service at VAPHS is the largest liver and kidney program for US veterans. Dr. Shaikh has worked to reorganize transplant services and hepatology care at the center.
During his tenure at the National Institutes of Health (NIH) in Bethesda, Dr. Shaikh conducted seminal studies on hepatitis C that are among the most cited in the literature.  His paper on hepatitis delta was one of the earliest that helped define delta genotypes. His clinical trial of pentoxyfylline led to rapid adoption of the drug as standard therapy for acute alcoholic hepatitis. He was a founding member of the acute liver failure study group (ALFSG). The group has produced a number of important publications and is internationally recognized for advancing the understanding of this life threatening condition. He is a member of the NIH sponsored hepatitis B research network. His current research focus is viral hepatitis and hepatocellular carcinoma. Dr. Shaikh currently serves as Principal Investigator for over 10 clinical trials.