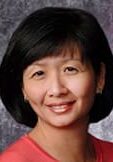 Dr. Tzeng obtained her medical degree from the University of Chicago and completed her surgical fellowship at the University of Pittsburgh. Dr. Tzeng's research focuses on vascular related topics.  She has a strong focus on translational studies of vascular healing and wound healing.  The effect of small molecules such as carbon monoxide and nitric oxide on the prevention of intimal hyperplasia is an active area of research with an attempt to understand the mechanisms by which these molecules achieve their benefit in the vasculature.  Related to vascular healing is cutaneous wound healing.  The beneficial effects of CO and NO have also been shown in cutaneous wound healing and efforts are ongoing to better evaluate these effects.  The ultimate goal of her research is to bring these agents to clinical application. She currently serves as Principal Investigator on multiple clinical trials and has both authored and co-authored many peer reviewed publications.
What are the 3 most important questions that define your research program?
How can we modulate the vascular healing response to prevent restenosis?
How can we utilize the natural environment of poorly healing diabetic wounds to enhance wound repair?
Are we able to utilize patients who undergo positive and negative remodeling following endovascular AAA repair to understand pathogenesis of AAA disease.