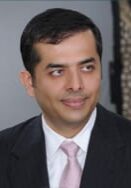 Dr. Butt has been the recipient of numerous national and international awards, including a Fulbright Scholarship, Yale-Johnson and Johnson Award in International Health, a National Talent Pool Scholars Award and an IDSA Training Faculty Award, Africa.
Dr. Butt has lectured extensively around the world as a visiting professor and consulted with governmental and non-governmental organizations in building research, education and training capacity in limited resource settings.
Dr. Butt has authored over 100 original papers, reviews and book chapters and has presented over 100 abstracts at international meetings. Between 2012 and 2014, residents and fellows under his mentorship received seven Young Investigator Travel Awards from prestigious national and international professional associations, enabling them to present their research.
Dr. Butt's research focuses on natural history, epidemiology and clinical consequences of hepatitis C virus (HCV) infection. He and his team have created one of the world's largest HCV databases, ERCHIVES (Electronically Retrieved Cohort of HCV Infected Veterans), which contains demographic, clinical, laboratory, pharmacy and health services information on over 320,000 HCV infected Veterans and same number of HCV uninfected controls.