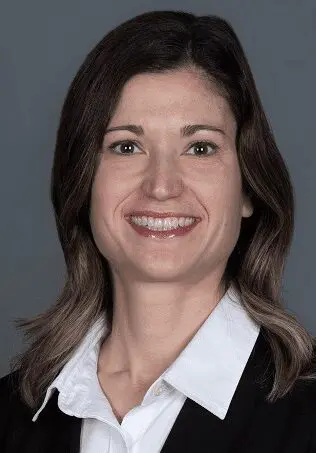 Lynn Baniak, Ph.D., R.N. joins Betty Irene Moore fellowship program at UC Davis Nursing School
Fellowship program recognizes nursing innovators
FOR IMMEDIATE RELEASE:
June 2, 2023
Pittsburgh, PA –Lynn Baniak, Ph.D., R.N.,  Associate Chief Nurse for Research, Veterans Affairs Pittsburgh Healthcare System(VAPHS) is one of 16 nurse scientists accepted to the fourth cohort of the Betty Irene Moore Fellowship for Nurse Leaders and Innovators. This fellowship program, funded by an initial $37.5 million grant from the Gordon and Betty Moore Foundation and an additional $7.5 million grant awarded this year to expand the program's capacity, recognizes early- to mid-career nursing scholars and innovators with a high potential to accelerate leadership in nursing research, practice, education, policy and entrepreneurship. 
As part of the three-year fellowship program, the Veterans Health Foundation will receive $450,000 to support the conduct of Dr. Baniak's project which will focus on nurse medication administration errors and the possible relationship with sleep, fatigue, and circadian misalignment. This study has the potential to support networking and development for a VA led approach to an evidence-based nursing scheduling policy to reduce medication administration errors among nurses.
"Medication administration is an important clinical task performed by nurses. Therefore, I am very excited that a study is being conducted related to the correlation between sleep, fatigue, and circadian misalignment with medication errors. Studies associated with factors to improve nursing practice will result in high-quality patient care and outcomes.," said Dr. Brenda Shaffer, Associate Director, Patient Care Services, VA Pittsburgh Healthcare System.
In addition to the project, the fellowship program features a hybrid online and classroom curriculum designed and taught in partnership with the UC Davis Graduate School of Management and national experts to enhance leadership and innovation capacity, strengthen strategic thinking and collaborative skills, expand professional networks, develop entrepreneurial skills, and propel innovative ideas to fruition. A mentor selected by the fellow and an additional mentor provided by the national program office round out the educational experience.  
"Our fellows go on a unique journey of self-discovery during their three years in the fellowship program in which they delve deeper into their roles as leaders and discover methods for spearheading change and promoting more equitable health care practices for their populations of interest," said Heather M. Young, national program director for the fellowship and Betty Irene Moore School of Nursing at UC Davis dean emerita. "These fellows are the next generation of nursing leaders, and they have immense potential to transform the nursing profession and improve health equity and health care services."
The fellowship program is made possible by Betty Irene Moore's passion to advance nursing with the goal of better outcomes for individuals, families and communities. The foundation seeks to prepare nurses as collaborative leaders with the skills and confidence to inspire others, enact change and challenge the status quo. With the creation of the Betty Irene Moore Fellowship for Nurse Leaders and Innovators, the foundation supports nurse leaders who take ideas to scale that advance high-quality, high-value care and optimal health outcomes. 
Applications for the 2024 cohort of Betty Irene Moore Fellows open Sept. 22 with a submission deadline of 5 p.m. PST Dec. 1. To learn more, visit the School of Nursing website.